The truest of all truths
and of all data based evidence
is what we know
is what we know that we know
is what we bet our lives that we know
but spend every heart beat trying to
D I S P R O V E:
ONE
OUT OF
ONE
OF US
DIES
. . .even those we know
who seem to defy it
are teflon proof
EXEMPT
just because of
WHO THEY ARE. . ,
SCOOTER IS ONE OF THEM
(until he wasn't)
October 29, 1950 – June 10, 2020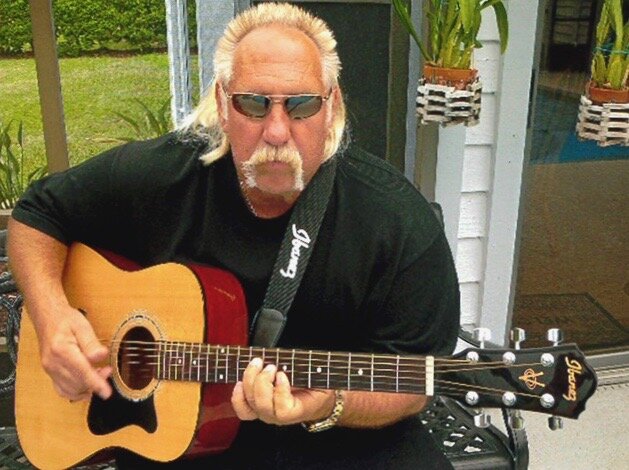 Born October 29, 1950 to Rita Washinski Bakaitis and Albert Bakaitis in Washington, Pa. Graduated from Washington High School in 1968 and briefly attended Drexel Institute of Technology in Philadelphia then attended several Electrical Technical Schools and Specialized Training. He was employed by Washington Stainless Steel Corp. from 1973-2000 as a Master Electrician.
In 1975 he married the love of his life, Elizabeth "Becky" Krager and in 1979 a son, Eric David was born to them. Eric precedes him in death.
During his life in Pennsylvania, Scooter enjoyed many varied hobbies and interests. He was an avid bow hunter and fisherman, loved all outdoor activities such as boating and camping with his family and friends, coached little league baseball and basketball with his son.
Throughout his lifetime Scooter enjoyed weight training and the social life that comes in a gym setting. His passionate daily project was a free "Internet Joke Service" that he started after the death of his son to try and "brighten the world". His wife Becky and he also organized a group called "Friends Helping Friends" at this time. In 1999 he organized the "Guyz Lunch" meeting for every Tuesday of the year which continues today.

Upon moving permanently to Florida in 2004 he renewed his enjoyment of motorcycles, started raising orchids and plants, also his musical interests which included "The Blues" and playing the guitar and model railroading.

He was also very active in his community, four years as ARC chair for his community and for many years as he would say "As a Professional House Bitch" for his snow bird neighbors when they went north for the summer.
He would say, "I don't go to church, but Me and God are tight". His church was the canal in his backyard or the ocean/beach, where he would go to "Chat with God".

Scooter is survived by his beloved wife Becky and their "adopted children/adults" Nicholas and Lindsay O'Brien, Justin and Rachel Sienkiel and Erik Larson and wife Santella, as well as his brothers Al (Jeanne) and Brian and nephew Nathaniel. 
I used to think
A FRIEND IS SOMEONE WHO KNOWS EVERYTHING ABOUT YOU,
AND STILL LIKES YOU. . .
I kind of believe now
that a Friend like Scooter
is someone who can do you for
and for those you love
what you have no power
within you to do;
He did for me and my family
(and countless others)
what could have never been done
without him:
MAKING HIS HOME IN FLORIDA OUR VACATION FOR THE PRIME YEARS OF OUR CHILDREN'S LIVES
HE GAVE EXPERIENCES
HE GAVE ENDLESSLY OF HIMSELF
HE TOOK HIS PERSONAL PAIN
AND MADE IT OTHER'S
SUPREME PLEASURE
He was Hulk Hogan
more than Hulk Hogan was himself
THIS IS SCOOTER. . .
Some people are
CHURCH PEOPLE
and a select few
(very few)
ARE THE CHURCH
. . .there wasn't a person Scooter ever met
who wasn't a part of his Congregation
. . .his pulpit was muted
because his
ACTIONS
did all of the speaking;
Scooter never came into a situation
that he didn't leave better
and he had a way of taking
YOUR LADDER
and adding rungs
always so you could climb higher
always higher
than you ever thought you could rise. . ,
The grains of sand in our lives gets emptied out
much faster than any of us would like
and what's left isn't discarded sand. . .
It's not even just memories
SO MUCH AS
as the
E X P E R I E N C E S
that live on within us;
AND BECAUSE WE CAN SHARE
WHAT'S FIRST BEEN SHARED,
now have the potential to live on in
OTHERS. . .
and after all that's said or done
WE
become what that data-based evidence can't begin to show:
I M M O R T A L
. . .try taking the Sand out of
That Glass