I don't know if this is a noun or a verb. . .
But I know I'm always reaching
to be more of a verb. . .
Y O U ?
D I S T A N C I N G
Whether it's SOCIAL
Whether it's PHYSICAL
Whether it's EMOTIONAL
Whether it's SPIRITUAL
is still
d i s t a n c i n g
and like any ripple
it causes other
w a v e s
BUT
Social Distancing Doesn't Mean You Have to Be a Hermit
There are many Experts now explain how to socialize in the time of
COVID-19.

In part, this is how MELISSA MATTHEWS recently shared some insights out of how this is effecting us all. . .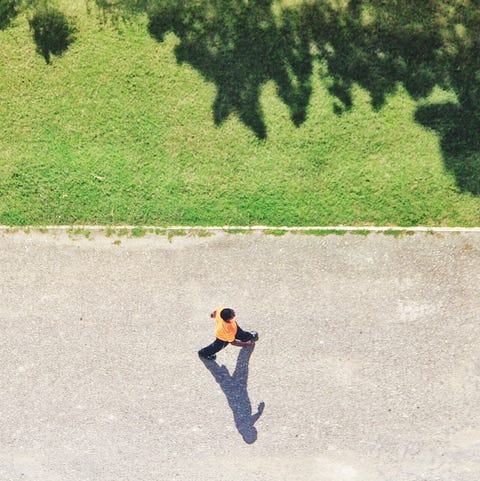 ROXANA VALLE / EYEEMGETTY IMAGES
The COVID-19 pandemic has postponed Coachella, cancelled the NBA, shot down March Madness, NHL, Soccer, Churches, as it's closed Bar's, Restaurants, postponed Golf tournaments, Parades, The Kentucky Derby, MLB, sent kids home from schools, colleges, universities, daycare centers, gyms and just about anything else that allows anymore than 10 people together and spawned a new phrase: social distancing.
In the United States, public health officials are recommending that even healthy people stay at home as much as possible. In fact, the Centers for Disease Control and Prevention recommends that all events with more than 10 people be canceled in the U.S.
This is where the practice of social distancing comes in.
Think of social distancing as the middle ground between quarantine and doing whatever you want, whenever you want, says K.C. Rondello,M.D., Clinical Associate Professor of Public Health & Emergency Management at Adelphi University.
"Social distancing involves all the choices we make that create a barrier of space between us and others," Dr. Rondello tells Men's Health.
According to the CDC, you'd want to maintain about six feet of personal space and avoid public places like shopping centers.
You may be hearing the term for the first time, but societies have deployed the technique in the past, says Dr. Rondello. It's particularly helpful when there's no treatment or vaccine available for a rapidly spreading pathogen, he says.
Here's why social distancing matters
If you're healthy, you might think that you don't have to limit your interactions with other people. After all, the risk of developing pneumonia or needing hospitalization from COVID-19 is low for the average healthy person, according to the CDC.
But limiting your social interactions reduces the risk of spreading the virus to people who may then spread it onto more people. This helps "flatten the curve," or influx of new cases in a given time period. Slowing the spread of the disease reduces the strain on the healthcare system by limiting the number of people who are severely sick and need hospital care. It also gives researchers more time to develop treatments and vaccines
Research from previous pandemics show that this method works. In 2009, closing schools for 18 days in Mexico helped reduce transmission of H1N1 by 29 to 37 percent, according to a 2011 study published in PLOS Medicine.
That said, you can be cautious without letting the pandemic dictate your entire life, according to William Schaffner, M.D., and infectious disease specialist at the Vanderbilt University Medical Center in Nashville, TN.
There is no "right" way to practice social distancing
Empty store shelves and internet memes may lead you to believe you can never leave the house. This isn't true.
"I think it's kind of up to you to decide how much risk you want to put other people in and how much risk you want to acquire for yourself," Dr. Schaffner tells Men's Health. "There is not a transmission policeman out there." Still, it might not be bad for each of us to imagine that we actually infected and just by being with another person, old or young, we could not just infect them, but actually may cause their deaths. . .
People who are older than 60 and individuals who are immunocompromised, meaning they have a difficult time fighting infections, should be more cautious, says Dr. Schaffner. The CDC states people at-risk of becoming seriously ill from COVID-19 should limit their exposure to groups and even look into grocery delivery.

But not everyone has access to grocery delivery or the freedom to work from home.
Here's how to implement the method realistically:
At the store
There's no need to buy six month's worth of toilet paper now. . .which I'm still not completely understanding;
In fact, stockpiling makes it more difficult for people to purchase essential items. However, you should head to the store with a plan, says Dr. Rondello. Make a list of everything you need and purchase the items in the same trip instead of going to multiple stores on separate days. This reduces your exposure and helps you be more efficient, he says. Shopping during off-peak hours when stores aren't crowded further reduces your risk of exposure to viruses.
"Along with social distancing, you're going to implement good infection prevention," says Dr. Rondello.
In other words, refrain from touching your face and wash your handsthe minute you get home.
While using public transportation
Many corporations such as Twitter, Google, and Box implemented work from home strategies in response to the current pandemic. But not everyone has the luxury of remote work—and some of these people may need to use mass transit.
"There are times when social distancing is not going to be possible. You're going to do the best that you can," says Dr. Rondello.
In a subway, bus, or train that means seeking out the place with the fewest amount of people. Again, it's vital to pair this with all the other recommended ways to avoid getting sick: washing your hands, using hand sanitizer (in a pinch), and not touching your face.
Now that Fitness Centers are Closed

Running and walking are great ways to stay active while getting fresh air—as long as you keep your distance. Again, the CDC recommends keeping six feet of personal space.
It's easy to get a full-body workout indoors using free weights, bands, or a yoga mat.
While hanging with friends
You're probably wondering whether you need to sacrifice socializing for the sake of the pandemic.
"There is no wrong answer, and there is no right answer," says Dr. Schaffner. Still, with all of the social media outlets we can still keep in touch
According to Dr. Schaffner, walking in the park with a friend is less risky than sitting in a crowded enclosed space.
Given the recent bar and restaurant closures throughout the U.S., this may be a good time to catch up with friends and family over video chat instead of dinner.
Ultimately, there are no absolutes. You simply need to weigh the benefits versus the risk and make a personal choice about which strategies you want to employ, according to Dr. Rondello.
And remember, social distancing is about helping other individuals—not just yourself. . .

The problem
(of which sometimes we are its main ingredient)
is that
t e m p o r a r y
FEELS
so Permanent. . .
Psssssssssssssssssssssssssssssssst of the Day:
Even
Permanence
isn't
permeant. . .
DISTANCE
yourself from that
and re-member:
"FEAR IS THE CHEAPEST ROOM IN THE HOUSE;
I WOULD LIKE TO SEE YOU LIVING
IN BETTER CONDITIONS." -HAFIZ